: August 14,2002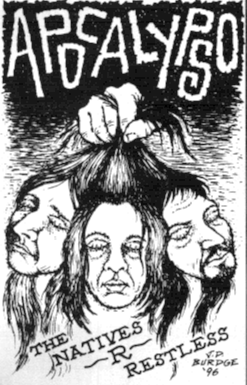 Apocalypso!
Caribbean Cool Calypso music with a 3-man band
A double bass, guitar, vocals, congas and percussion
Due to relocation of founder Jeff Burge Apocalypso has disbanded.
They do still have a killer tape out so buy it today!

---
The members of Apocalypso at the time of recording the tape were:
Founder (Happy) Jeff Burdge, on vocals, guitar, and harmonicas. Jeff originally comes from the beaches of Southern California.
Dillon (Dillonater) Smith is the "native" Texan of the band. Dillon plays a beefy, flambouyant bass guitar, and doubles on harmony vocals.
John (Gatekeeper) Wilson heralds from the west coast of Florida. He creates the heartbeat of the band on congas, bongos, and percussion. He sings as well
More information about Apocalypso:

A three member band that specialized in performing lively new interpretations of traditional and modern calypso, known as Soca Music. These music forms originate from the Caribbean Islands, Tobango and Trinidad. The band's emphasis was on rythmic, upbeat songs that compel any audience to "jump up" and participate! Most Listeners found themselves carried away by the beat; bouncing, smiling, and dancing, even if they didn't know how!
Their cassette, The Natives -R- Restless, is a must have! It consists of traditional, standard, and original music. Songs included are: Shango Na~igo; Zombie Jamboree; Stone Cold Dead; Island in the Sun; Growing Older, Not Up; Lemon Tree; Mary Anne; Matilda; Bimini; No Time Like Now; Yellow Bird; and The Criminal Kind.

Current play dates:
Apocalypso has disbanded. To get a copy of the tape e-mail me for information.
---
Check out these friends of Apocalypso!
Ravens - Neo Celtic with an Edge!
Casey Sledge - Original Folk and more!
This page written and maintained by Shaddow Walter